Campeche is a marvelous medium-small city on the western coast of the Yucatan Peninsula. It sprawls out from a central walled city, which was constructed after the city decided enough was enough following 150 years of pirate assaults. They are a patient people, apparently. Pirate culture is everywhere in Campeche—it clearly is an important part of their history: living with the pirates, overcoming them, and then memorializing the struggle (kinda like race reports…hmm, metaphor?). Our Hotel Plaza Campeche was a half mile from the main coastal avenue (The Malécon) and the finish line.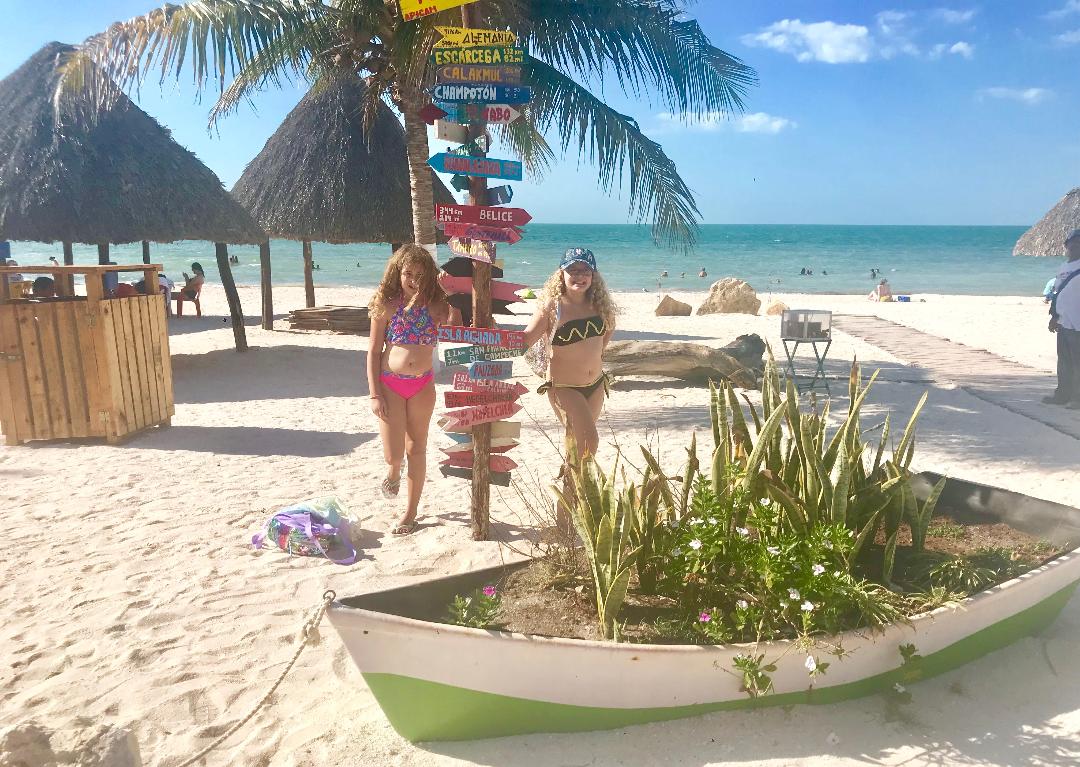 People in Campeche are very friendly and family-focused. If you go to a park in the evening, entire families are hanging out on the benches and the kids scrambling around on skateboards. Everyone we met was genuinely happy to meet us. You will, however, need some Spanish to get around Campeche—many people speak no English. So prepare some basics.
OK, race logistics. Campeche is a two-transition zone race.
You swim at the Campeche Country Club, about eight miles south of the town proper, so you'll have to get yourself down there the day before to drop off bikes, and then to T2/finish (at the convention center) to drop off your run bags. This all sounds simple, but by midday the temperature is well into the 90s, and doing anything both requires extra effort and has the potential to deplete your physical resources. The country club is amazing. It has 3 infinity pools just facing the ocean. The white sanded beach is a paradise. The practice swim in Campeche was very helpful to have a feel of the rough water. Close to the beach water is mainly calm, but when you get in the open water waves are giant.
Wind often means a choppy swim. If there is also a strong current and not the best visibility, you cannot have the fastest swim. The roll start swim started at the beautiful country club. The race course goes out beyond the protected shallow area where water gets very rough. On race day waves were even bigger.
As I settled into what I thought a good rhythm I was not surprised how good I felt. I was born in Naples, Italy, and I have been swimming in the mediterranean sea since I was a kid. I love swimming in the ocean. I got out of the water feeling very good. My swim time was't the best because of the rough condition, but I came out of the water 10th in my AG.
Hot, humid, sunny, windy, and hilly. The bike started off on a very steep hill. I held a good pace on the bike, through the rolling hills of Campeche, and was able to briefly maneuver into 5th place. I could not maintain my 80-85% Ftp as predicted. My back was sore as I was trying to go with higher wattage. So I just stayed at 70% Ftp. And that felt good.
I did drink and eat what I was supposed to do and my stomach handled it very well so I was really pleased with that. With about 10 miles to go I finally focused on what I could control and made the best of the ride.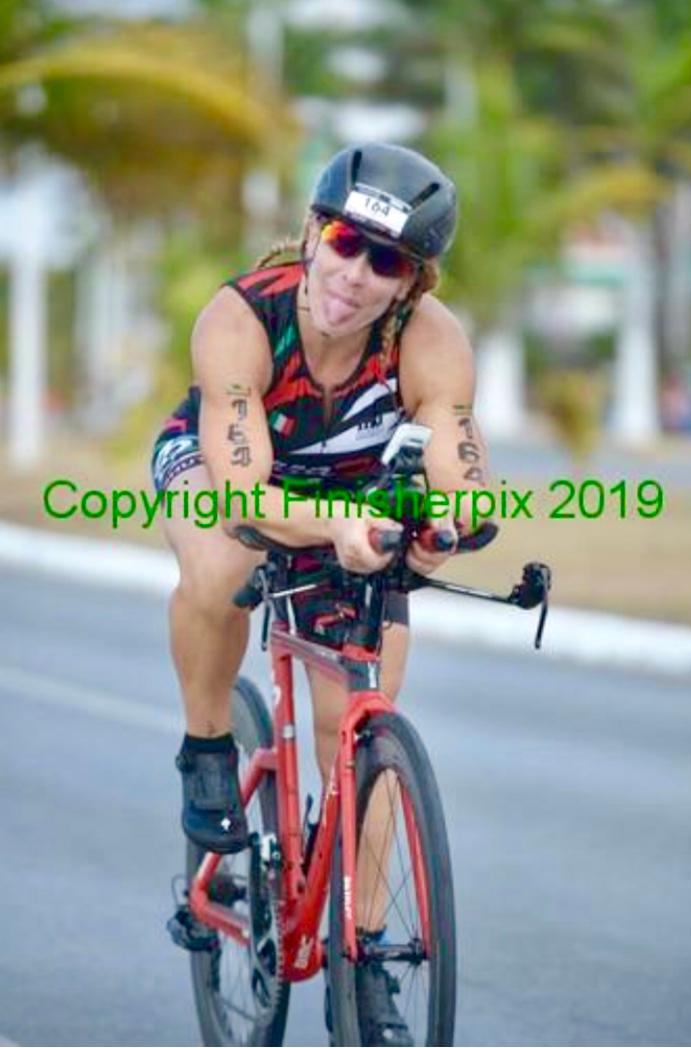 One cautionary note about the bike leg at Campeche: the many huge speed bumps.
In terms of the actual course, I would describe it as rolling, with the real challenges coming from wind (it's head/cross for the first half of each out-and-back, then tail/cross, then head/cross again, and finally tail/cross as you get to to the turnaround), heat (you'll get really hot during the tailwind sections). I came off the bike thinking "Huh, my legs aren't shot," and figured that I would be able to put up a solid run. BUT…..
As soon as I started my run my old enemy GI syndrome attacked me. I had to stop 4 times to use the bathroom. Oh boy… it has been a long time since I had experienced it. I always carry Imodium with me, so I took it after mile 2. I started feeling better so I started running with no pain and no urge to stop again in the bathroom. I walked at every aid station to pour water on my head, put ice in my bra and to drink gatorade.
The volunteers were a huge help with this: the aid stations were incredibly well organized. Additionally, instead of handing out cups of water they handed out little baggies of water. I would just bite off a corner of the bag and sip, which meant I was able to take in a lot more water than usual.
In addition, so many locals came out with sponges and ice cold water in coolers. If I didn't already think the people in Campeche are the nicest anywhere, I certainly did after the fourth or fifth time I accepted an ice cold sponge!! Amazing. Oh, and—there was a marching band!! It was awesome!
The run is also two loops. It's on the main road that goes along the ocean, so breezy but almost no shade. It's also flatter than a pancake, which means you're using pretty much the same muscles the whole time. By this point in the day, temperatures were in the 90s and humidity probably about the same percentage-wise. Yikes!! At mile 6, I had so much pain under my feet. They were burning. I knew that blisters were forming, caused by the water I was pouring on myself. My feet were soaked. The run was a hot one for sure and I was losing ground. My body just was not moving the way I wanted it to on the run. I gritted my teeth and dug in for the long haul. But my running legs were just not there. This was my slowest run on a 70.3, but I still was able to come away with 10th place on the day.
I don't know if I've ever been so grateful to see a finish line!! I have so much happiness and amazement for everyone who finished this race because it was a really tough day. Seriously, we loved this venue and it's so special to be able to race with my friend Rocio. We also had our families supporting us. I took 10th AG with a 5:58. It wasn't the day I had hoped for, but that's racing.
Even though I didn't have a strong ride, and a shitty run, I am so stoked to be at the next level with my training. I can focus on making my next race even better. I will be focusing more on the process and how that will allow me to get the results I am looking for.
I think that the late start contributed to my GI syndrome issue.
I'm leaving Campeche really proud of staying strong to the finish line—and more motivated than ever to keep training hard and to do everything I can for some big magic at my next race.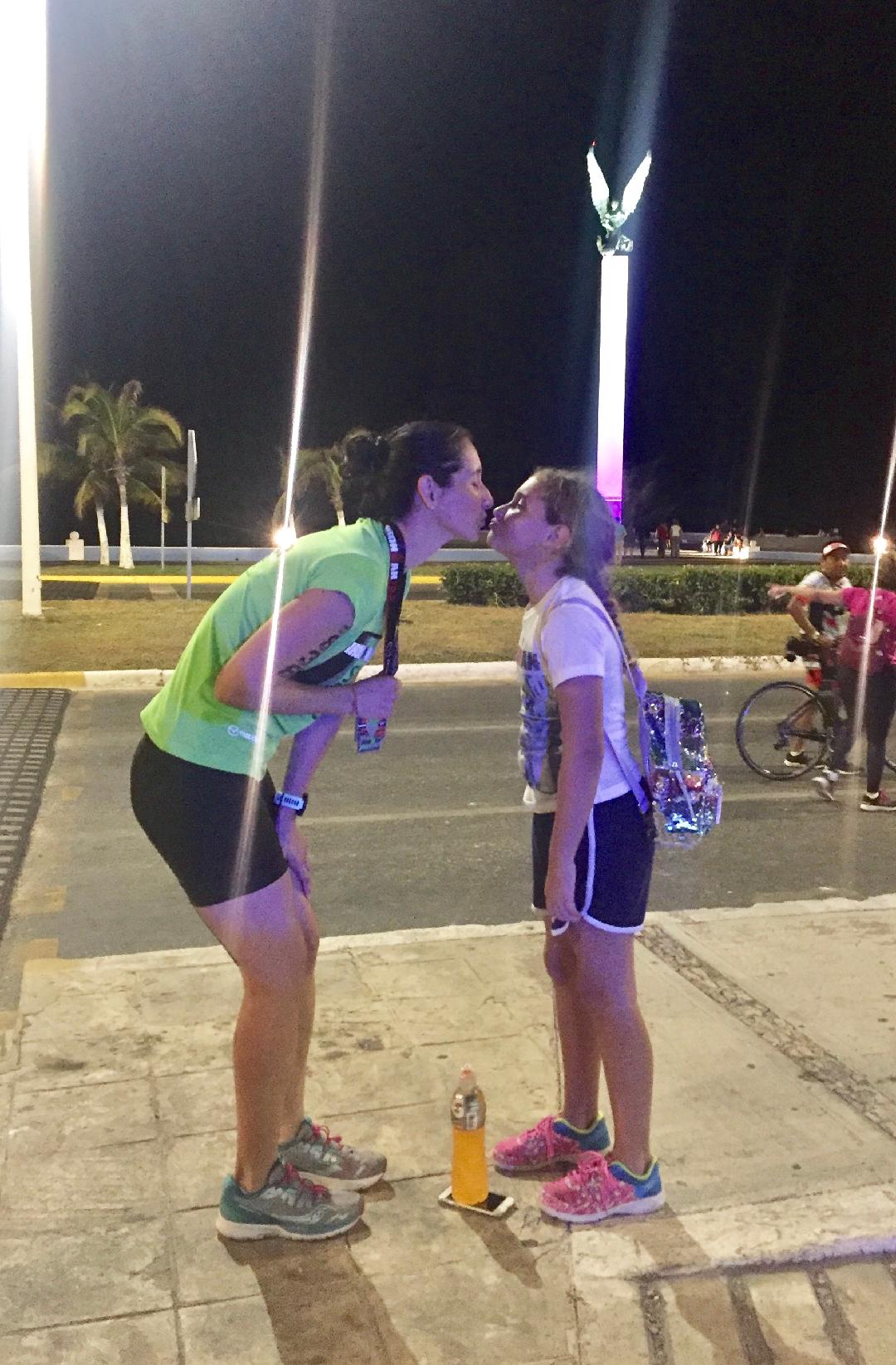 Some races are like this: you really have to look within yourself and draw on everything you have. I know that what's inside of me is gratitude and grit, joy and hunger. This is the best part about triathlon, I think: really getting into your body, into your heart, and then laying it all out there for yourself, for the world.
I'm super proud of Rocio for competing her first Ironman 70.3, and very thankful for my husband Mike. He is the best sherpa you can wish for.
And grateful for my girls and Chloe for being there to cheer us on!